Piraci z Karaibów: Na krańcu świata / Pirates of the Caribbean: At Worlds End (2007)
V2.MULTi.1080p.BluRay.x264.DTS.AC3-DENDA / LEKTOR i NAPiSY PL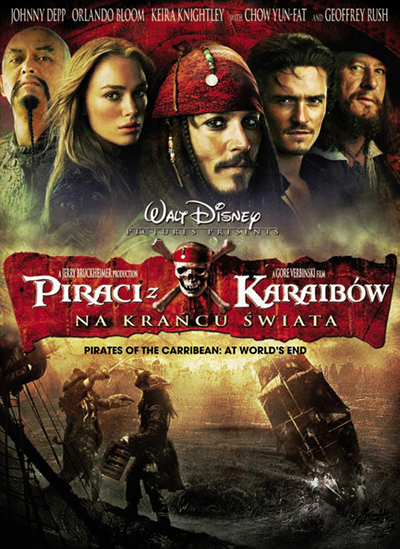 Gatunek : Fantasy, Przygodowy
Produkcja : USA

Zawadiacki błysk w oku nie pomoże szarmanckiemu kapitanowi Jackowi Sparrowowi wydostać się z pułapki Davyego Jonesa kryjącej się na krańcu świata. Tym razem nie ucieknie stamtąd przy pomocy rumu czy związanych lianami żółwi. By wyzwolić pirata, Will Turner (Orlando Bloom), Elizabeth Swann (Keira Knightley) i kapitan Barbossa (Geoffrey Rush) zawiązują sojusz i wypływają na najdalsze wody, bowiem tylko gotowi na wszystko śmiałkowie mogą dołączyć do Jacka. W tym czasie, posługując się Latającym Holendrem, Kompania Wschodnioindyjska realizuje plan oczyszczenia mórz z wszelkich korsarzy.

Format : Matroska at 17,1 Mb/s
Length : 20,2 GB for 2h 48 min. 31s 59ms
Video #0 : AVC at 15,0 Mb/s
Aspect : 1920 x 800 (2.400) at 23.976 fps
Audio #0 : AC-3 at 640 Kb/s
Infos : 6 kanałów, 48,0 KHz
Language : pl
Audio #1 : DTS at 1.509 Kb/s
Infos : 6 kanałów, 48,0 KHz
Language : en
Text #0 : UTF-8
Language : pl
Text #1 : PGS
Language : en
Kod: Zaznacz cały
https://rapidu.net/051422492449827/At.Worlds.End.2007.V2.MULTi.1080p.BluRay.x264.DTS.AC3-DENDA.part01.rar
https://rapidu.net/191422492541758/At.Worlds.End.2007.V2.MULTi.1080p.BluRay.x264.DTS.AC3-DENDA.part02.rar
https://rapidu.net/281422492472371/At.Worlds.End.2007.V2.MULTi.1080p.BluRay.x264.DTS.AC3-DENDA.part03.rar
https://rapidu.net/461422489303892/At.Worlds.End.2007.V2.MULTi.1080p.BluRay.x264.DTS.AC3-DENDA.part04.rar
https://rapidu.net/521422497322036/At.Worlds.End.2007.V2.MULTi.1080p.BluRay.x264.DTS.AC3-DENDA.part05.rar
https://rapidu.net/241422492533964/At.Worlds.End.2007.V2.MULTi.1080p.BluRay.x264.DTS.AC3-DENDA.part06.rar
https://rapidu.net/431422497782890/At.Worlds.End.2007.V2.MULTi.1080p.BluRay.x264.DTS.AC3-DENDA.part07.rar
https://rapidu.net/361422501906708/At.Worlds.End.2007.V2.MULTi.1080p.BluRay.x264.DTS.AC3-DENDA.part08.rar
https://rapidu.net/121422500612469/At.Worlds.End.2007.V2.MULTi.1080p.BluRay.x264.DTS.AC3-DENDA.part09.rar
https://rapidu.net/391422492508534/At.Worlds.End.2007.V2.MULTi.1080p.BluRay.x264.DTS.AC3-DENDA.part10.rar
https://rapidu.net/121422500515849/At.Worlds.End.2007.V2.MULTi.1080p.BluRay.x264.DTS.AC3-DENDA.part11.rar		
https://wrzucajpliki.pl/j7t5ugu9y7kg/At.Worlds.End.2007.V2.MULTi.1080p.BluRay.x264.DTS.AC3-DENDA.part01.rar
https://wrzucajpliki.pl/ibdgf4sxo4sa/At.Worlds.End.2007.V2.MULTi.1080p.BluRay.x264.DTS.AC3-DENDA.part02.rar
https://wrzucajpliki.pl/equdh0rw755s/At.Worlds.End.2007.V2.MULTi.1080p.BluRay.x264.DTS.AC3-DENDA.part03.rar
https://wrzucajpliki.pl/yive34ygsh1m/At.Worlds.End.2007.V2.MULTi.1080p.BluRay.x264.DTS.AC3-DENDA.part04.rar
https://wrzucajpliki.pl/h7jh3bsiuqif/At.Worlds.End.2007.V2.MULTi.1080p.BluRay.x264.DTS.AC3-DENDA.part05.rar
https://wrzucajpliki.pl/4nr049lj5dnq/At.Worlds.End.2007.V2.MULTi.1080p.BluRay.x264.DTS.AC3-DENDA.part06.rar
https://wrzucajpliki.pl/lqehgz0ha35m/At.Worlds.End.2007.V2.MULTi.1080p.BluRay.x264.DTS.AC3-DENDA.part07.rar
https://wrzucajpliki.pl/we0w7fky0e51/At.Worlds.End.2007.V2.MULTi.1080p.BluRay.x264.DTS.AC3-DENDA.part08.rar
https://wrzucajpliki.pl/8m43lrdtwtio/At.Worlds.End.2007.V2.MULTi.1080p.BluRay.x264.DTS.AC3-DENDA.part09.rar
https://wrzucajpliki.pl/ybrs9jngvl52/At.Worlds.End.2007.V2.MULTi.1080p.BluRay.x264.DTS.AC3-DENDA.part10.rar
https://wrzucajpliki.pl/ktsrrhmgb2b8/At.Worlds.End.2007.V2.MULTi.1080p.BluRay.x264.DTS.AC3-DENDA.part11.rar
https://rapidgator.net/file/a611c2dfe4d423a9a2715e99cf23b5ad/At.Worlds.End.2007.V2.MULTi.1080p.BluRay.x264.DTS.AC3-DENDA.part01.rar.html
https://rapidgator.net/file/752bcceb104fa5ed1415399907e9eefe/At.Worlds.End.2007.V2.MULTi.1080p.BluRay.x264.DTS.AC3-DENDA.part02.rar.html
https://rapidgator.net/file/74afc64f3ee8beaac52e5ab34ea9b3fb/At.Worlds.End.2007.V2.MULTi.1080p.BluRay.x264.DTS.AC3-DENDA.part03.rar.html
https://rapidgator.net/file/793cd6afd2eb13c23161f994f8e815fd/At.Worlds.End.2007.V2.MULTi.1080p.BluRay.x264.DTS.AC3-DENDA.part04.rar.html
https://rapidgator.net/file/5509d55828c6bd0ae01816ba5f5013b6/At.Worlds.End.2007.V2.MULTi.1080p.BluRay.x264.DTS.AC3-DENDA.part05.rar.html
https://rapidgator.net/file/d207d9118376be62faa2ce2102f792ed/At.Worlds.End.2007.V2.MULTi.1080p.BluRay.x264.DTS.AC3-DENDA.part06.rar.html
https://rapidgator.net/file/465de6ba274565c8049422f056b47a9b/At.Worlds.End.2007.V2.MULTi.1080p.BluRay.x264.DTS.AC3-DENDA.part07.rar.html
https://rapidgator.net/file/dda58111b7e0f835b2cc7169e0a67704/At.Worlds.End.2007.V2.MULTi.1080p.BluRay.x264.DTS.AC3-DENDA.part08.rar.html
https://rapidgator.net/file/b041fa2e5974bbec21eae3b8d96b1eba/At.Worlds.End.2007.V2.MULTi.1080p.BluRay.x264.DTS.AC3-DENDA.part09.rar.html
https://rapidgator.net/file/62676b3e6e18d497882537b67117e4a1/At.Worlds.End.2007.V2.MULTi.1080p.BluRay.x264.DTS.AC3-DENDA.part10.rar.html
https://rapidgator.net/file/e3d7d9f3c8c67848656e22d3bd1227bb/At.Worlds.End.2007.V2.MULTi.1080p.BluRay.x264.DTS.AC3-DENDA.part11.rar.html
https://www.wplik.com/o57jwcj5ckjm/At.Worlds.End.2007.V2.MULTi.1080p.BluRay.x264.DTS.AC3-DENDA.part01.rar.html
https://www.wplik.com/nlhfpgf34muq/At.Worlds.End.2007.V2.MULTi.1080p.BluRay.x264.DTS.AC3-DENDA.part02.rar.html
https://www.wplik.com/ck2uyrtx8w2y/At.Worlds.End.2007.V2.MULTi.1080p.BluRay.x264.DTS.AC3-DENDA.part03.rar.html
https://www.wplik.com/eg8ro596mowb/At.Worlds.End.2007.V2.MULTi.1080p.BluRay.x264.DTS.AC3-DENDA.part04.rar.html
https://www.wplik.com/2y3ophqmw3vq/At.Worlds.End.2007.V2.MULTi.1080p.BluRay.x264.DTS.AC3-DENDA.part05.rar.html
https://www.wplik.com/3weyk7zuwgxf/At.Worlds.End.2007.V2.MULTi.1080p.BluRay.x264.DTS.AC3-DENDA.part06.rar.html
https://www.wplik.com/uhu6mt24ugng/At.Worlds.End.2007.V2.MULTi.1080p.BluRay.x264.DTS.AC3-DENDA.part07.rar.html
https://www.wplik.com/gvxpm35zstpk/At.Worlds.End.2007.V2.MULTi.1080p.BluRay.x264.DTS.AC3-DENDA.part08.rar.html
https://www.wplik.com/gcspaxrb0jtj/At.Worlds.End.2007.V2.MULTi.1080p.BluRay.x264.DTS.AC3-DENDA.part09.rar.html
https://www.wplik.com/otn1iv1pun1s/At.Worlds.End.2007.V2.MULTi.1080p.BluRay.x264.DTS.AC3-DENDA.part10.rar.html
https://www.wplik.com/j2tjc95vuodt/At.Worlds.End.2007.V2.MULTi.1080p.BluRay.x264.DTS.AC3-DENDA.part11.rar.html